Stuff


The script will format phone numbers according using international notation:
Local numbers (e.g. 0891234567) will be converted to an international number (e.g. +33 891 23 45 67), by using the country of the contact's address.
All numbers will get the format that is the preferred format for that country (e.g. 0891234567 in Germany would be +49 89 1234567).
Phone numbers with a (potential) issue are highlighted so you can take action.
If there is no address available for the contact and the phone number is in an international format, then the script will add the address (country name), e.g. +49 89 1234567 will add the country Germany to the address field.
Continue reading: contacts phone format fixer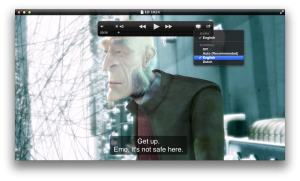 A script that helps to automate searching & adding subtitles for movies and TV shows. It uses
subliminal
for the actual search+download and
MP4Box
for the actual adding of the subtitles. The script is there to make all of it easier: it gives you a command line interface (CLI) to add subtitles for all video files in a certain folder, for all video files recursively, or for a specific file.
Continue reading: subtitle searcher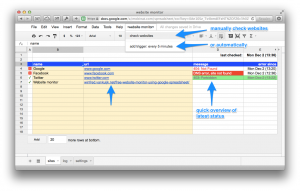 If you want to monitor multiple websites and get notified if your site is down, then you can use this solution that I created:
a free website monitor
which is based on Google spreadsheet.
The spreadsheet consists of a script that monitors your websites at a given interval (e.g. 1, 5 or 30 minutes). You can specify e-mail recipients and you will get an e-mail when the site goes down and also when the site is up again. All changes are stored in a log.
It will check for DNS issues and the most popular http errors, including page not found (404) or site not available (403).
Continue reading: free website monitor using Google Spreadsheet
Geen daden maar woorden
Net als in 2010 heb ik de verkiezingsprogramma's van de grotere eerste 12 partijen voor de Tweede Kamerverkiezingen 2012 gedownload en de meestgebruikte woorden in beeld gebracht. Des te vaker het woord wordt gebruikt, des te groter het getoond wordt.
Continue reading: Verkiezingsprogramma's 2012 in beeld gebracht
One of the advantages of the Wintec WBT-202 GPS data logger is that you can read the logged GPS data on any computer.
To change the configuration, Wintec has made available the WBT_Tool utility.
However, this is only available for Windows. That's an issue if you have a Mac (or Linux).
Luckily, there is a pretty easy way to use wbt_tool to configure your Wintec GPS data logger on your Mac (or Linux).
Continue reading: Wintec WBT-202 on Apple using Wine
So you now have iTunes Match. Great, this means that on your other devices you get the uploaded songs in the higher bitrate of 256 kbps. But: on your original computer the files are still in the original (lower) bitrate…
There's a good article on the Macworld site that explains how to replace them with the higher bitrate.
The Macworld tip is nice because it can also remove the low bitrate files for you. But not if you manually add/manage your music. Or, what if you want to keep them in the original location and move/remove them manually?
This article explains how to do that.
Continue reading: iTunes Match: remove low bitrate files after upgrade
Seeing "internal error executing the custom function"? Appears to be an intermittent Google issue. Try again later.
Using Mapquest as provider and seeing errors? Most likely monthly quota of requests is used. See
background
tab for details of limitations.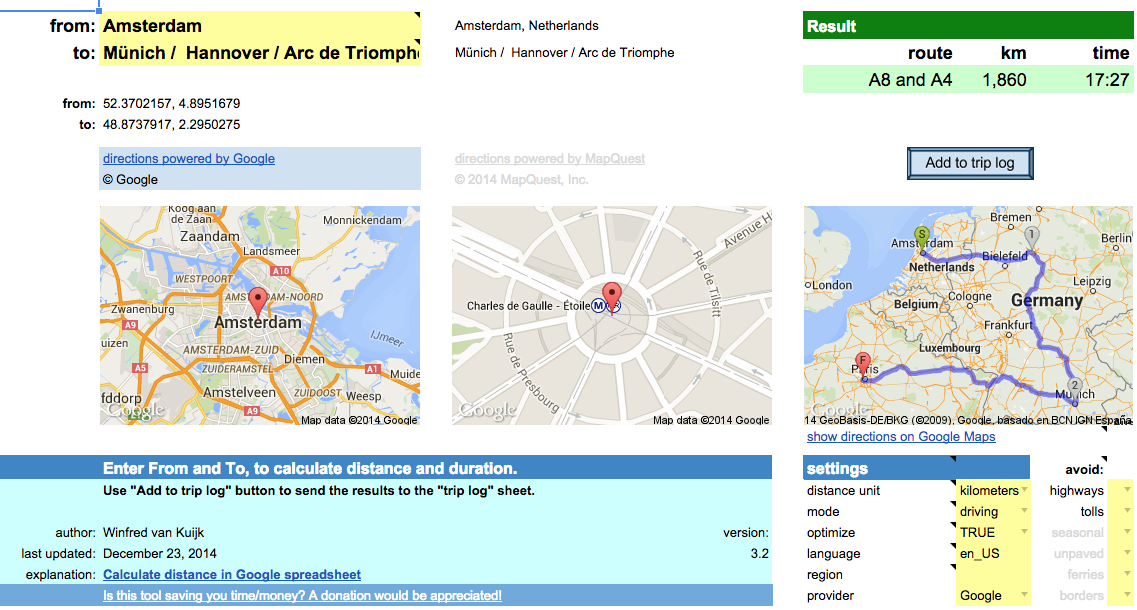 This post started as a description of how to use Google's API for distance calculations (with importXML), and there was a template as a proof of concept.
It has evolved into a distance calculator spreadsheet with custom functions using either Google's or Mapquest's API, with the ability to add results to a trip log.
Fill out From and To locations and the spreadsheet will calculate the distance and driving time based on the recommended route. You can copy the result to a trip log. Google account required.
Read the background to learn more about the options and the limitations.
For issues or requests, write a comment or contact me directly.
Continue reading: Calculate distance in Google spreadsheet
Een plaatje zegt meer dan 1000 woorden.
Een bekende uitspraak, eens kijken of we die in de praktijk kunnen brengen…
Ik heb de partijprogramma's van de grotere partijen (voor de Tweede Kamerverkiezingen 2010) gedownload en de meest gebruikte woorden in beeld gebracht. Des te vaker het woord wordt gebruikt, des te groter het woord.
Continue reading: 2e Kamerverkiezingen: woorden in beeld

"Hi, I am Winfred and I am a big Dropbox fan". There, that is out of the way. This post describes the various ways I use Dropbox, a storage cloud service that acts as a local folder on your system(s). By no means is it meant as a definitive list, so feel free to share your favorite uses in the comments.
Continue reading: My favorite Dropbox uses
While working on my better multi-country support AppleScript plug-in for Address Book, I was thinking of a way to check with a server to see if there was an updated version of the script.
The requirements:
make it optional: let the user decide if they want to switch it on;
make it privacy friendly: don't use it to collect user information;
do it quick, don't slow down the script too much.
Read on for the result I came up with.
Continue reading: AppleScript subroutine: is there an updated version of script on server?
The other day I was reading about the number of TV show downloads on BitTorrent and that for some shows (like Heroes and Dexter), the downloads now exceed the average viewership on US television. This must mean there is a need…
If I were one of the millions to download US TV shows like The Office, House,  (because locally they are not available or months/years later), this is how I would do it on my Mac. Use iTunes/Hulu for that you say? Mmm, not available in most countries outside the US.
I would be looking for a way to: monitor new torrents, get them to my computer, convert them to H.264, add metadata and add them to iTunes. And, do this in an automated way and preferably a decentralized way, so I could remain flexible.
This workflow takes advantage of Dropbox, there is a separate page dedicated to smart ways of using the free Dropbox cloud storage.
Continue reading: From TV show torrent to iTunes: an automated workflow
Here is a free plug-in that I have written for Apple's Contacts (Address Book) that provides better multi-country support:
country names: you no longer have many variations for country names (so: all "United States", instead of many variations like "USA", "US", "United States of America");
country address formats: it tells Contacts to use the formatting that belongs to that country (e.g. my default format is for the Netherlands, which normally means for US addresses that state is missing and zip and city are switched).
Before (left): non-standard country name and incorrect format (state is missing, zip and city are switched)
After (right): standard country name and correct format
Quite useful for those that have contacts in multiple countries. You can specify in the script what countries to check and what your preferred country names are. Missing/unknown countries are added as a group in Contacts.
Simply download and run, or install as plug-in in /Library/Address Book Plug-Ins ~/Library/Application scripts/com.apple.AddressBook (location appears to have changed in 10.9.2.

September 2014: v1.9 introduces progress meter (available in Yosemite), user request added (only process contacts in defined group), bug fixes.
Continue reading: Better multi-country support in Contacts
This one is related to the post describing the workflow to transfer and transcode video files from a Humax 5050C.
This time I will describe how I read the metadata that is stored in the .hmt file on the Humax. The most important reason: to show the description of the recorded event.
Continue reading: Parse Humax 5050C metadata files
This post describes how I copy video files from my Humax 5050C DVR, and how the result is transcoded for use on my iPod/iPhone/Apple TV. And: how these two things are done in parallel, to save time (in my case: 35%) and disk space.
It has been a hobby project putting multiple pieces together. As with many things in life, the trip itself is often more interesting than the destination. So, I decided to share the details of the trip. If you are interested in the destination: you can download the complete (be it proof-of-concept) script as well. For that, scroll to the bottom of the post.
Suggestions, thoughts, etc? Let me know and/or leave a comment.
Continue reading: Transfer and transcode to iPod/iPhone